The Scheduled Reports tab of the Report Center displays the archive of scheduled reports that were run recently.
Select Reports from the left main menu.
By default, the Build tab is displayed.
Click the Scheduled Reports tab. The Scheduled Reports Archive appears.
In this article:
Note: To edit Scheduled Reports, see the Manage Tab.
How Scheduled Reports Work
When you have a need for the same set of information regularly, use scheduled reports to configure and run reports on a recurring basis. Scheduled reports can be set up to be run automatically at various intervals (daily, weekly, monthly) and be delivered via email. They are then available for download from the Scheduled Reports tab upon completion.
The Build tab allows you to create a report and save it as a Scheduled Report.
The Manage tab allows you to designate one or more email addresses to receive the Scheduled Report delivery.
The Scheduled Reports tab displays an archive of the last 5 Scheduled Reports per report type.
Scheduled Reports can be configured to run daily, weekly, or monthly and then be delivered to one or more email recipients that you designate. A maximum of 5 scheduled reports per report type is allowed per account; additional scheduled reports can be requested by contacting your Aeris account manager.
Viewing the Scheduled Reports Archive
A list of recently generated scheduled reports is displayed once you click the Scheduled Reports tab. Only the 5 most recent reports for each report type is retained. The time that a scheduled reports remains archived in the portal will vary:
Each daily report is archived for 5 days.
Each weekly report is archived for 5 weeks.
Each monthly report is archived for 5 months.
In the following example, the report named "All Device History (daily)" of report type "Account Devices Detail" was last generated on the 5 dates and times shown in the Create Time column. Similarly, the "DH Traffic Cost Summary (daily)" report shows 5 archived reports.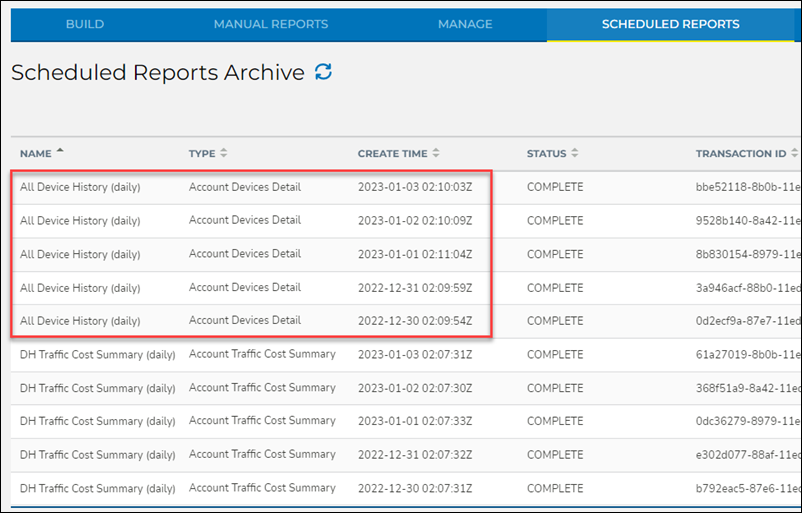 Downloading, Emailing, and Deleting Archived Scheduled Reports
Next to each report in the Scheduled Report archive is a More menu, designated by 3 dots.
Click Download to download the full report in CSV format.
Click Email to send an email containing a link to download the report to yourself. You can forward this email, and the recipient will also be able to download the report from the provided link. Note that the email is sent to the same email address(es) that normally receive this report. You can designate the report recipient(s) from the Manage tab.
Click Delete to delete the report and remove it from the archive.

Selecting Columns
You can choose to hide certain columns or show additional columns by using the wheel icon on the right side of the list of reports. Click the wheel icon to view the available columns, then check or uncheck the columns as desired.