AerPort is a self-service Connectivity Management Platform used to manage the life-cycle of your SIMs and your connectivity services. AerPort has two distinct user interfaces: Classic and New Portal.
In this article:
Basics
Aeris has added a new portal to display usage and billing information, analytic and operational reports, device and SIM information, network status, and alerts. This portal is a web page, https://ngaerport.aeris.com/, that displays features using a freshly updated paradigm with menus along the left side of the screen. New features in AerPort are being developed exclusively in the new portal because the Classic AerPort paradigm will be retired in the coming year.
Before mid-January 2023, the new portal is available only to customers who have purchased an Essentials package or who have subscribed to Security or Business Performance Analytics Reports. After mid-January 2023, it will be enabled for all customers. Once it is enabled for your account, all users in your primary account will have access to it. However, if you use sub-accounts, those accounts will not automatically have access to the new portal.
Opening and Exiting the New Portal
When enabled for your account, open the new portal by selecting Try the New Portal from the main menu on the AerPort Dashboard.

Until all existing functionality in AerPort is made available in the new portal, you may need to go back to Classic AerPort to perform some functions. Click Return to Classic AerPort to go back to the Aeris AerPort dashboard.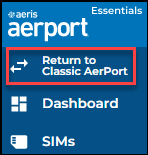 New Portal Menu Options
After selecting Try the New Portal, the Aeris portal screen appears. Menu choices are in the left pane. The choices you see depend on which features are enabled in your connectivity subscription. For example, the screenshot above shows the Security menu options. The screenshot below shows the Dashboard menu and several other options.

Dashboard: These menu items provide a overall look at your devices, billing, and usage.
SIMs: These menu options items provide you with full access to all the SIMs and devices in your account. You can activate and deactivate SIMs, test communication with SIMs, manage traffic, and view monthly/daily/hourly data usage for each SIM.
Security: These menu items open the Aeris Intelligent Security Center, which provides a dashboard and capabilities regarding "network detection and response" to provide visibility and insights into your IoT deployment.
Analytics: These menu items open various analytical reports that help you fine-tune the performance of your IoT solution. See Your Business Performance Analytic Reports for more information.
Reports: These menu items provide a wide variety of reporting options at the account level or device level. You can run ad hoc reports, save new reports, and view automatically generated monthly reports.
Alerts: These menu items provide the ability to view current alerts and manage alert notifications based on device activity.
Network Status: This menu item displays a pop-up menu with the status of network connectivity for different Aeris product offerings, such as Fusion Global, Fusion NA, and Dual-Mode A-LH. This information is the same as is provided in Classic AerPort under Network Status on the menu bar. See Network Status for more information.
Account: This menu item lets you manage users, view account details, and manage API keys.
<Profile>: This menu item will show your username. It lets you edit your profile information.
Help: These menu items provide links to the customer documentation, information about upcoming cellular product and feature deactivations, an option to submit a Zendesk support ticket, and a link to the web page where the user can download the VPN form. These menu items are the same as are provided in Classic AerPort under the ? menu.
Virtual Assistant: This menu item opens the AerPort chat window (called AVA) in a separate tab in your browser. You can ask AVA to a variety of commands using a command-line interface. In AVA, type "what can you do?" to see a list of commands. For example, you can type status followed by the ICCID to see the current registration status of the SIM.
Feedback: While using the functionality provided in the new portal, you can provide a rating and comments using the Feedback menu item.


Logout: You can end your AerPort and portal session by selecting Logout.