You can monitor the status of your IoT solution in several ways. One important item to monitor is the status of the Aeris network. A fully operational network allows for unencumbered flow of data between your devices and the Aeris core network.
This article describes the ways to check on the status of the network and subscribe to be notified about any changes in the service.
In this article:
Network Service Status Dashboard
You can view network status quickly and easily from within AerPort. In AerPort, click Network Status on the main navigation menu. You will see a list with the real-time status of the Aeris connectivity services for your account. Only the services that are active in your account are shown.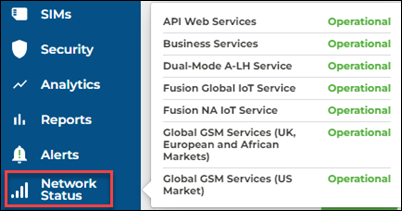 When you see the green word "Operational," the service is up and working as expected. Other status possibilities are as follows: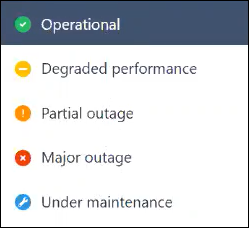 Connectivity Service Status Web Page
You can view network status and details about current and past impairments (up to one (1) week) quickly and easily by reviewing the Connectivity Service Status web page, https://caas.status.aeris.net/. You can bookmark this page and refer to it directly, or you can access it from AerPort.
In the Network Status popup described above, if you click the name of a network service, a browser window opens and displays the web page with details about each of the network services. You can expand and collapse each service listed for the status of Data, SMS, Voice, and other services.
Scroll down the page for additional information, such as upcoming Scheduled Maintenance and information about Past Incidents.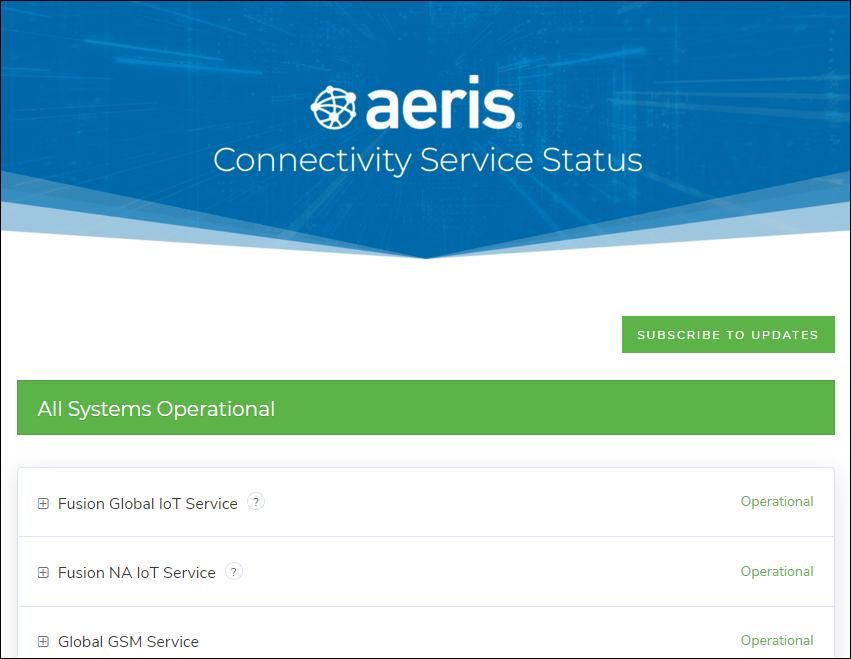 Subscribe to Connectivity Service Status, Incident, and Maintenance Notifications
If you want to be notified when there is any change with the network services for your account, you need to Subscribe to Updates. Subscribing provides you with updates, maintenance notifications, and new incident reports. You can receive notifications via email, SMS, or webhook. The notification indicates which system or network component is impacted and which geographic area it affects. When service is restored, we send another notification email, which describes the issue and actions taken.
The frequency that updates and notifications are sent varies based on the type of notification method selected:
Email: Get email notifications when the Connectivity Service Status creates, updates, or resolves an incident.
SMS: Get text message notifications when the Connectivity Service Status creates or resolves an incident.
Webhook: Get webhook notifications when the Connectivity Service Status creates, updates, or resolves an incident, or when it changes a component status.
To subscribe to notifications:
Click Subscribe to Updates on the status page.
In the tabbed popup box, select the icon corresponding to the type of notification you want to receive.


Enter your contact details and click Subscribe.
Choose which components to get status updates for by checking and unchecking the boxes.


Click Save.