Over the course of a device's lifespan, there will be times when you need to monitor its operations or troubleshoot an irregularity. This article demonstrates three types of common network and device monitoring activities.
In this article:
After you become familiar with the types of data that you can monitor on your devices, you can set up alerts and reports to provide you with data on a regular basis.
Monitoring Device Data Usage
Once your devices are activated and registered on the Aeris network, they can be deployed for their intended use in your IoT solution. After deployment, you can monitor their daily data usage by reviewing the Dashboard in AerPort.
The Dashboard is the landing page of the AerPort portal and displays an overview of your account activity. You can access the Dashboard from anywhere in the AerPort portal by clicking Dashboard on the main navigation menu.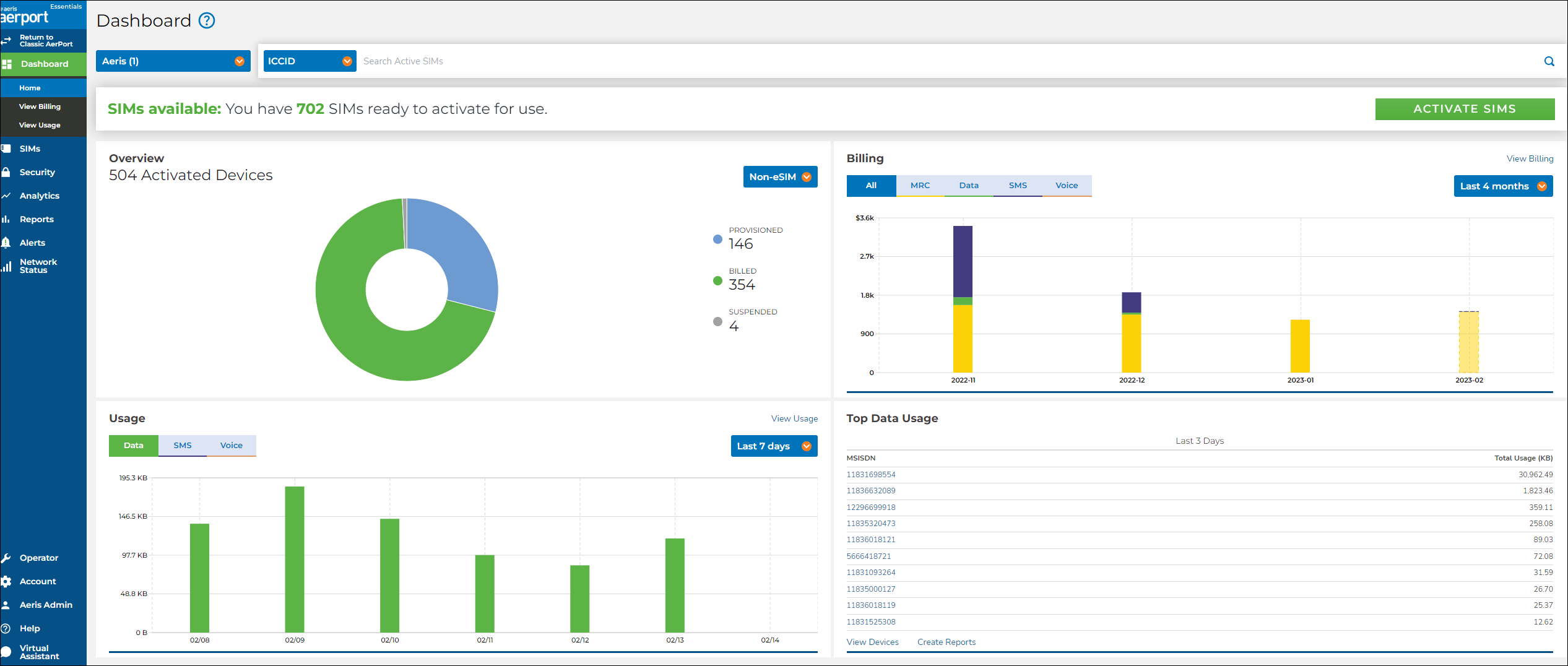 The Usage widget displays the aggregate consumption for each service that your SIMs are using:

To view the aggregate consumption for a specific service, select a service at the top of the widget.

The Top Data Usage widget displays the SIMs in your account that have sent or received the most data over the last three days.

To see more detail or perform basic SIM operations, click the device's MSISDN to view the SIM Information box.
Viewing SIM Diagnostics
AerPort provides an easy way to view useful information about your deployed SIMs. From the main navigation menu, select Manage SIMs. Use the drop-down menus or the Search box to locate the SIM you are interested in, and then click the SIM. The SIM Information box appears.
The Network tab display registration status, SIM identifiers, a list of transactions of different types from the past 60 days. You can also test the communication with the device using the list of available SIM Operations.
The Settings tab displays the device state, assigned rate plan and service profile, status of network services, SIM identifiers and attributes, and an Audit Trail of device status changes.
The Report tab provides a graphical view of usage (data, SMS, voice, registrations, and sessions) for a given time period.
Viewing the Device Transaction Log
To view recent transactions for a device, first use the Manage SIMs page to locate the SIM. Then click the SIM to view the SIM Information box.
At the bottom of the Network tab, view the list of device transactions. By default, all transaction types are displayed but you can select a particular type using the Traffic Type drop-down list box.